We've already helped 100,000+ of our customers worldwide become lighter and healthier!
How I Fixed My Gut

and

Lost Weight

With This Fiber Powder

Since my early 20s, I've been struggling with a gut imbalance that later led to constant heaviness and bloating in my digestive system. It affected my immune system, hormone levels, and my weight.

Now I'm in my 30s, I should still be bursting with energy, right? But that's not the case. It became a huge challenge in my weight loss journey, as I wasn't losing pounds but rather gaining.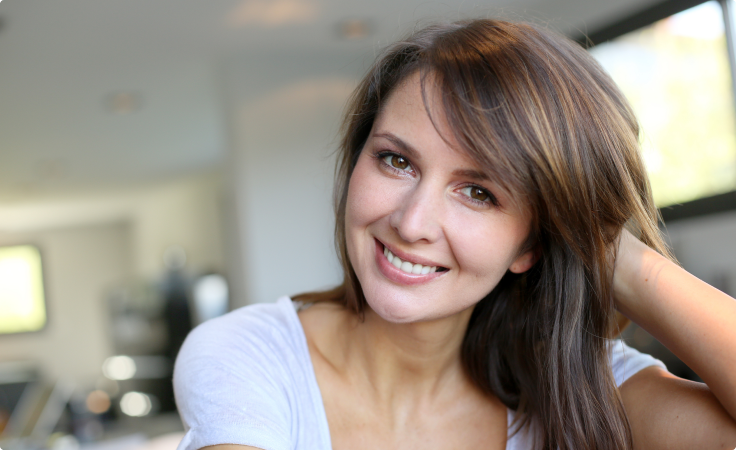 Everyone kept telling me that with my condition, I won't reach my desired results.
I was desperate to lose weight – I tried detox teas, different diets, workouts, and other cleansing methods – just to improve my fat-burning process. But nothing worked for me.
After spending some time researching other possibilities, I stumbled upon an announcement that invited people to participate in a research project to investigate the irregularities of bowel movements using alternative methods.
I was quite skeptical, but I didn't have a better choice, so I signed up.
A few days prior to the project, I got a call from a friend, who mentioned her own struggles with gut health. She suffered from constipation, and her body was having a hard time absorbing needed nutrients and had adapted insulin resistance, which resulted in weight gain.
That's when I first found out about ColonBroom.
How This Powder Worked as a Fat Burner, Accelerated My Weight Loss, and Even Fixed My Gut – All With One Ingredient
ColonBroom is a unique complex of essential ingredients that help relieve constipation, reduce bloating, and speed up metabolism, resulting in faster weight loss. The key soluble fiber, psyllium husk, is able to pass through your digestive system without being completely broken down or absorbed. It becomes a viscous compound that benefits your overall gut health.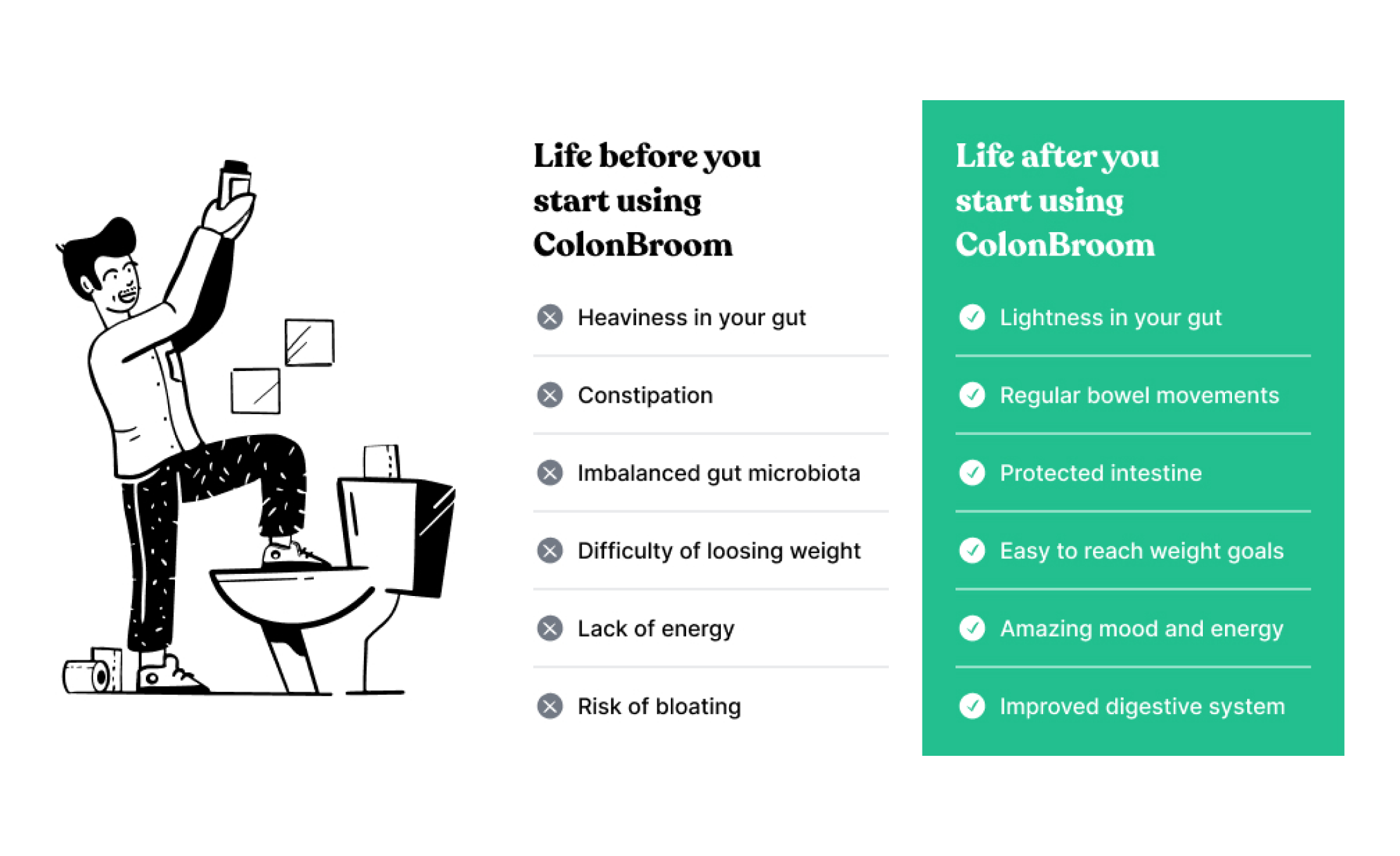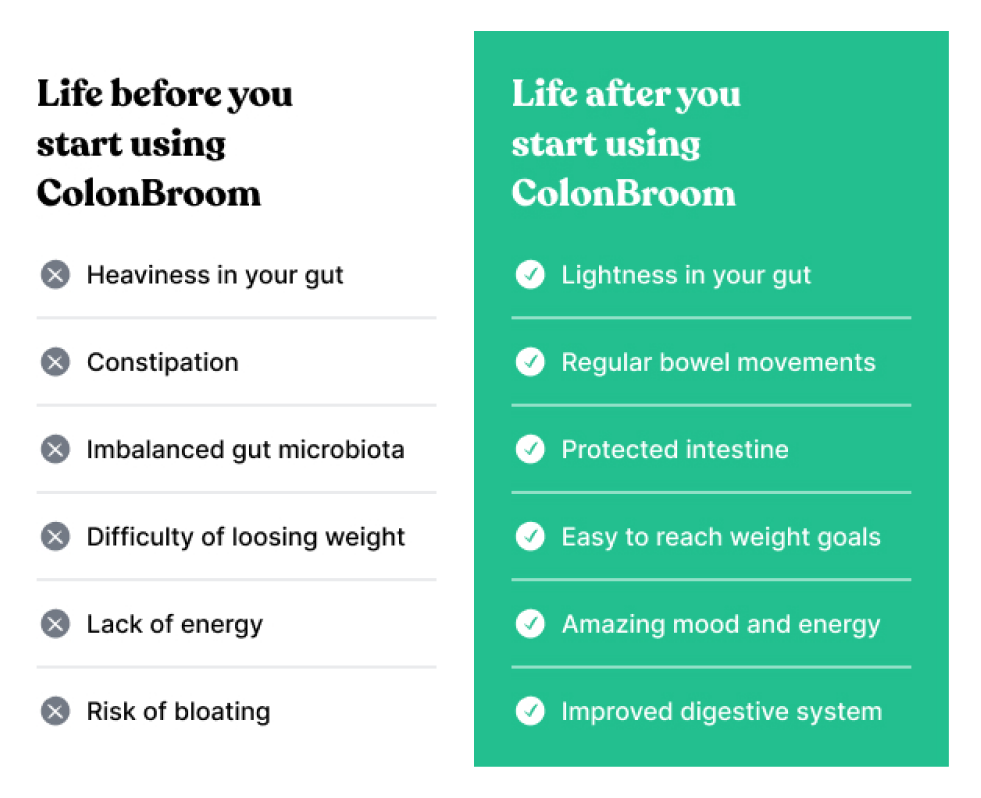 I must admit, it sounded too good to be true. After so many attempts to fix my gut and get back on track on my weight loss journey, I had nothing to lose, so I gave it a try.
Here's My Experience
I started seeing the first results in just 1–2 days, noticing some movement in my bowel.
After just 5–7 days, I felt the first results – less bloating, lightness in my gut, improved digestion, and felt full longer.
After the first bottle of ColonBroom, I noticed a big difference in my gut. I've experienced fewer cravings and no more constipation or bloating as I became regular in the ladies' room. Best thing – I noticed a flatter belly!
The discomfort in my gut was almost non-existent! I noticed positive changes in my body – I was finally feeling lighter, and (don't want to jinx it) I think I've lost a few pounds, thanks to the powder.
For so long, gut imbalance has been my biggest concern. From what I've learned, it's not just a one-time issue that comes and goes easily. It's often set to become a bigger underlying health problem – don't let it happen.
Enjoy a healthy gut and start burning unwanted fat in your body.
ColonBroom supplement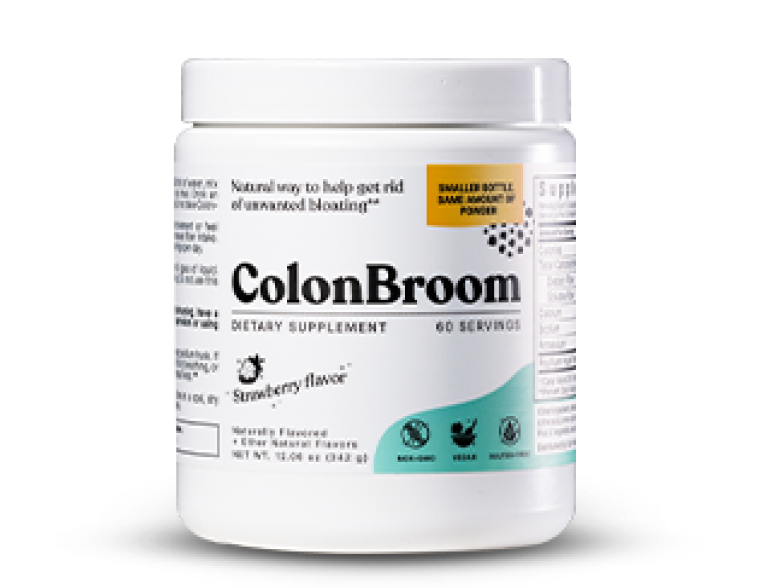 Lightness in your gut
Regular bowel movements
Protected intestine
Easy to reach weight goals
Amazing mood and energy
Improved digestive system
Lightness in your gut
Easy to reach weight goals
Regular bowel movements
Amazing mood and energy
Protected intestine
Improved digestive system
order now
If you're still not convinced, look at what
thousands of happy customers worldwide

have to say about ColonBroom:
I have struggled with losing weight…
I have struggled with losing weight after taking care of my son for almost two years. ColonBroom so far has helped me lose five pounds! My sugar cravings have decreased so much in the last two weeks. My only concern with this journey is getting bored with the strawberry flavor. So far, I enjoy the taste but not sure for how long.
I have almost finished my first bottle
I have almost finished my first bottle. I found it took about two weeks to get regular. Definitely drinking extra water is recommended. It makes a huge difference. My stomach feels less bloated and I have less gas.
Great product
Great product! Less bloating, less sugar intake (I can't miss my Starbucks), and I'm down 6 lbs in 2 weeks! I've already recommended it to a few friends!
10/10
10/10. Within days, I noticed a change in bloat and regularity! One day missed, and I could tell why it works so well! #colonbroomlife
Take a free quiz and see how ColonBroom can help you!
Take a quiz